About Fur Fun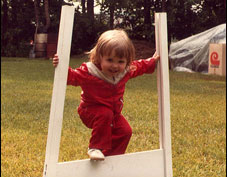 In 1981 the Swansea Dog Obedience Club in Toronto decided to try to get a flyball team together. A member had seen the sport in the States somehow and got us a funny little wooden catapult. In a few months there were a few dogs who could do it and these club members actually did a demo at the Sportsman's Show in Toronto that year. Demos at other events followed, and other clubs got teams going. Thus was flyball started in Canada. Deb Norman, with her small daughter Julie, tagging along, helping out, was a part of this first group with her Terv, Sherry. Other dogs on the teams were a Chow, a Samoyed, a Boston Terrier, and a mini-poodle.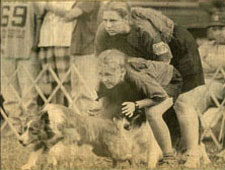 A highlight was the Detroit-Windsor World Series of Dog Obedience in 1984, when Swansea and five other teams held a mini-tournament for the competitors and spectators. Our team consisted of 3 Tervs (2 of them belonging to Deb), a German Shepherd (owned by Ron English), and a miniature Poodle height dog (owned by Judy Rich). All three of these people are still involved in flyball.
Julie had a powerful interest in the sport, and as soon as she had her own dog, started training him to play. She was always interested in the other dogs and teams. On the picture at the right, she is running a dog for Northern Borders at an outdoor tournament in Ontario, being coached on passing by Dianne MacWinnie.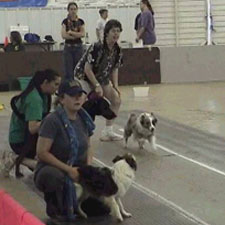 Fur fun was founded by Pat Morgan (friend to Deb and Julie and breeder of their dogs) in Michigan, in the early 90s. There was no flyball on the East Coast, so Deb and Julie made a few trips a year to Michigan and ran with Pat's team, Fur Fun. When No Speed Limit hosted the first tournament on the East Coast, Deb and Julie ran as Fur Fun. Eventually, the Michigan part of the team became less active, and the East Coast branch wanted to start competing for regional championships in the newly formed Region 13. So Fur Fun moved east to Philly! On the left, you can see what Fur Fun looked like then (pictured are Julie/Scandal, LN/CJ, and Linda/Patch, from front to back).
Julie eventually ended up moving south to get married and that's how Fur Fun came to have a Southern branch. Linda May moved to Texas, and for a time, there was a Texas branch of Fur Fun.
Fur Fun has won regional championships in Regular and Multibreed in three regions now (regions 9, 13, and 15). We wonder if any other club has won either or both classes in three or more regions.