Meet Our Border Collies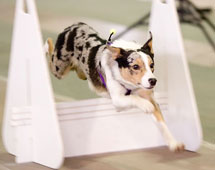 Flash
Flash, or Coyote Boy, MAD, NAJ, AX, NF, CGC, TD, born 11/08/2005 is a blue merle tri smooth coat border collie, owned by Lynn and Andy Hull. He has been playing flyball since January 2007 and is currently working on his 70K. Flash knows he is unique and special, and expects everyone to realize that:) His loves agility, herding and disc, but thinks flyball is the best. A perfect week day for Flash - swimming in the creek, followed by a therapy visit (or playing with grandkids), followed by chuck-it in the yard, and ending with agility or flyball at Y2K9s.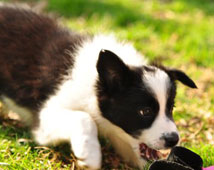 Glee
Quicksilver Sweet Harmony - Bank x Badabing
Birthday: 01/25/11
Best time 3.79
Glee is a petite little girl, often referred to affectionately as a miniature bob-tailed border collie. She is super sweet and eager to learn. She has matured into an excellent flyball dog and can also be found flying through the air with the greatest of ease, catching discs. In 2014, Glee qualified for and competed in the Skyhoundz disc dog world championships. She also ran on our Fur Fun regular team that won Can Am Regular 5 Classic division. Likes: Visiting with friends, squealing like a monkey, and watching. Dislikes: Waiting her turn, and swimming, believes she is made of sugar and will certainly melt.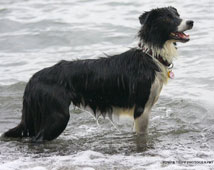 Jones
Quicksilver I Want It All "Jones" DOB 10/12/07. Badger x Shiner Fastest time 3.682. Nicknames: Joney, Ramma, Mouth. Jones took a long time to mature and mold into quite a fabulous little girl. She was a solid dog on our fastest team for years, and is still a fierce competitor, putting 3.7s on the clock running on veterans teams.It has been said she is a lot like her grandmother Sprint. Owned and operated by Ben Hill.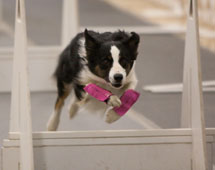 June
Contact Point's Ring of Fire MX MXJ OF RE HSAs CL3 AD ONYX
DOB: 5/3/06
AKA Junie, June Bug, June Carter Cash (after her namesake) and - for unbeknownst reasons – Rooney & Roo June is a black-tri BC who loves to run fast. Her best time is a 3.72, and she is a former member of Formula who helped set some past team speed records. June is owned by Penny Leigh of Fur Fun South and was bred by Karen Moureaux of California. June also excels at many other sports and holds titles in Agility, Herding and Rally. She is a recipient of the Versatility Award from the Border Collie Society of America.