Meet Our Bird Dogs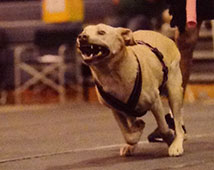 Casey
Casey is a yellow Labrador Retriever ,CGC, born 9/5/2008, owned by Lynn and Andy Hull. He has just earned his ONYX. Everyone knows when Casey is around, making it clear it should definitely be his turn. Casey enjoys life, not only flyball, but everything - riding in the car, swimming, playing disc (he is really very good and gets air), and wrestling and playing tag with his "sister", Prize.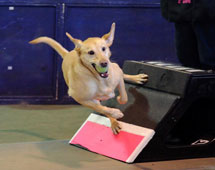 Emmie
C-ATCH Emmie's Yosef Hill  FGDCh, TDI, CGC. Emmie is a yellow Labrador Retriever born 03/03/05. She is co-owned by Donna Shelton and Jennifer King. Her nicknames include neminator and sugar bear. Emmie also competes in agility and is a certified therapy dog. Jen and Emmie volunteer in the Paws for Reading program at a local library where kids read to her. Emmie's other hobbies include eating and napping. She loves her labbie sister, Kiley, more than anything else in this world. Emmie enjoys water activities from a water retrieve to jumping off the diving board. Her favorite toys have dangly bits that she can swing to and fro. Emmie is unusual for a lab in that she likes a good game of dress up.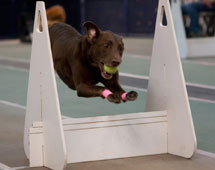 Kiley
C-ATCH Kiley's Nestle Heel FGDCh-40K, CGC. Kiley is a chocolate Labrador Retriever born 03/06/04. She is co-owned by Donna Shelton and Jennifer King. Her nicknames include the brown bullet or brown clown (dependent on her actions at that exact moment), ki-ki, and brownie brownie cocoa puff. Kiley also competes in agility. She was truly born to work as she always gives 100%, whether it be flyball, performing tricks, or dropping a toy between the feet of the victim of choice. Her most entertaining trick is imitating Stevie Wonder. Her most unusual characteristic is that she likes to play with tiny, cat-sized toys, with her favorite being her beloved little Moo Moo.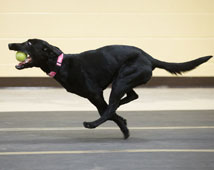 Shady
Lorken's Infinite Ricochet  FDCh
Shady is a black Labrador Retriever born 07/01/2011. She is co-owned by Donna Shelton and Jennifer King. Her fastest split time is 3.856 as start dog.  Her nicknames include Shady Pupperelli Twizzle Tail Penelope (pronounced like cantaloupe), spider monkey, roni, rae-rae and most any other words synonymous with naughty. Flyball has begun and she absolutely loves it.  She hopes to one day play agility and maybe try her paw at dock diving and hunt tests. Shady loves playing bitey face with Kiley and finally has wiggled and dodged and charmed her way into Emmie's personal space.  Shady is so full of energy and is just waiting for the word "go".