Meet Our Other Breeds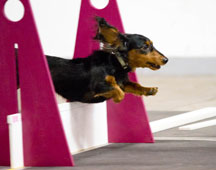 Cooper
DOB 12/20/2007. Titles: ONYX. Best time: 5.9. Nicknames: Super Cooper, Pooper Scooper, Scoops.

Cooper loves nothing more in the world than playing flyball (not including eating). He sets the jumps to 7in, just one inch shorter than himself. And yes, that best time was no typo. These little legs have reached sub 6 seconds… in the pack! Cooper also enjoys running for other people, especially when they give him bigger chunks of chicken than his mom. In his spare time, Cooper has dabbled in dock diving and freestyle dancing. When Cooper is not tearing up the flyball lanes and trash talking, he can be found eating trash, digging holes, and swimming.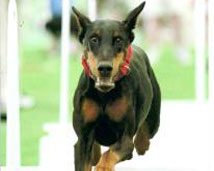 Harley
Kimbertal's Harley Angel, CGC, FMCh
DOB – 5/1/2008
Best time 4.2, not too shabby for a 60lb Dobie

Received the name "Harley" because she's black & orange, LOUD, and looks bad ass!
Nicknames – Wild Child, The Black Widow, and Loud Mouth

Harley loves Flyball and trash talking in the lanes! She originally started out learning agility but when her owner compromised her by not being able to keep up on the course, she decided to take up flyball! She enjoys being a Doberman Pinscher breed ambassador by educating children in the girl scouts and boy scouts about Dobermans and how they are fantastic dogs. Harley is loved in her house by 3 lil boys and can drive them nuts by wanting to play ball ALL day long. She also enjoys playing Frisbee, running through creeks, and destroying stuffed toys. She is owned and loved by the Baughman family.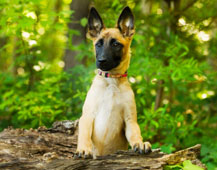 Buffy
Buffy des Novelle Luna

Buffy hails from a strong Schutzhund/working line out of California and is the same breeding as Guilty on Spring Loaded. Still a puppy, Buffy is training for flyball, agility and obedience careers.