Meet Our Dogs in Training
Bliss
Shebaa's Midnight Dahlia Born 7/31/2014 Nicknames: "B", Sweet B, Blissy, Blissy Pie, & Badniss. This sweet girl came to her human at just the right time. She never stops moving and loves to work. She will be dabbling in Tricks, Disc dog, agility, flyball & whatever else she wants. This little girlie has lots of potential in her little toes.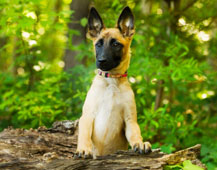 Buffy
Buffy des Novelle Luna

Buffy hails from a strong Schutzhund/working line out of California and is the same breeding as Guilty on Spring Loaded. Still a puppy, Buffy is training for flyball, agility and obedience careers.
Crush
Wescot's Smooth Criminal Born 6/20/2015 Nicknames: Crushie, Naughty Butt, Stinker, Stud. This confident, sweet boy is incredible and his mom can't wait to see his potential in all sports he decides he likes.