Meet Our Border Collies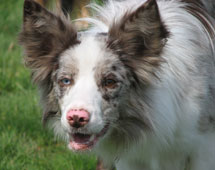 Sprint
Ignited Orion Racing Through Time FDCh "Sprint" dob 6-22-08 Sprint is our last Race kid, and named after Grandma Sprinty. She is also known as the Princess Puppy..she gets special royal treatment :) She is living up to her name and often channels her grandma..she takes things very seriously and hates it when the other dogs don't behave! But she also has a lot of her daddy's silliness. Sprint is still learning flyball- we have the jumps and the box down, now just need to put them together :) She also plays in agility and is coming along nicely. Her favorite part--weave poles! She has learned a little about disc, and herding. Princesses really don't like going to the farm, and think sheep are stinky..but goats are tons of fun!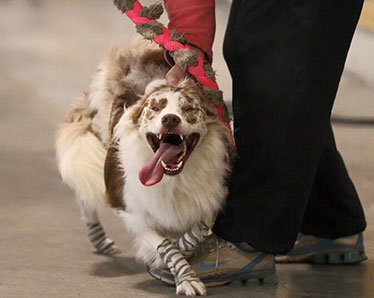 Dash
Dash is a 4 yr old red Merle border collie. He has taken a long time to learn to run, but now that he has figured it out, he loves it. He always tries his best to make his mom happy and gets along with everyone. He has yet to meet a dog or person he doesn't love. He is best at giving "Dash hugs and kisses". Nicknames Dashy Poo, Dash Dash and DumDum.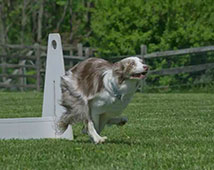 Dakota
Orion Hearts on Fire OAP NJP C-ATCH 5 Born 2/22/2005 FMCh Fastest time 4.1. Race son & sibling to Razor. Dakota is Chelsea's heart dog and 1st BC of her own. He makes red merles look silly and crazy! He was born to play ANYTHING and bring joy to everyone around him. He loves playing flyball and agility with anyone that will run him and has made an excellent therapy dog. You name it he will learn it and have fun while doing it. This boy always has a big grin on his face and melts your heart with his big blue eyes.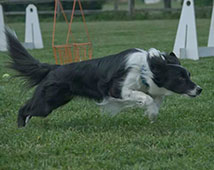 Nikko
Orion A Splash of Black Flurry NA NAJ NF ONYX ETD Fastest time 3.89 Born 2/17/2010 This boy should have been called Romeo. He is the first to snuggle up and give out hugs to anyone, then go and run his heart out. I call him my little boy with flair! He is my personal therapy dog, prefers humanoids but loves to play with the puppies. He currently competes in Agility, Dock Diving, Disc Dog & Rally.