Meet Our Border Collies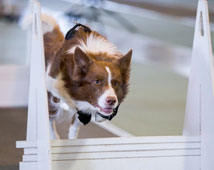 Apollo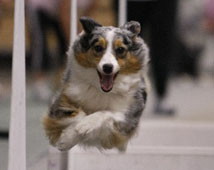 Peyton
MACH Sterling Peyton XF HSAs AD FDCh-G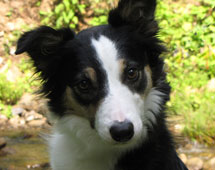 Saiah
Quicksilver HvnSent On Eagles Wings FDCh-S, Saiah (like Isaiah without the 'I'), born 7/11/08. Saiah is named after Cindy's favorite Bible verse from Isaiah 40. Saiah is Treasure's baby and so much like her mother. She's sweet, loving and cuddly. She is also training to show in obedience and will eventually do tracking as well. She competes with her mother to bring Daddy his slippers. Saiah's brother, Gambit, can be seen in the lanes with Gail Forr running with Release the Hounds. Saiah also is loved by Cindy and Carl Tier.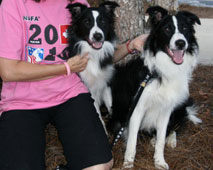 Ruger
Contact Point's Speeding Bullet
(omn the left next to his brother Lex)

DOB: 12/14/10
Ruger is a product of a strong performance line breeding of Contact Point Border Collies. Dad is MACH Contact Point's Red Alert "Zing" (second place in the 2011 AKC National Agility Championships – 20-inch class) and mom is Contact Point's Ring of Fire AX AXJ OF RE PT ONYX – a versatility award winner from the Border Collie Society of America. Erin has high hopes this youngster will be a stand-out in all endeavors including Agility, Flyball, and Herding.