Meet Our Mixes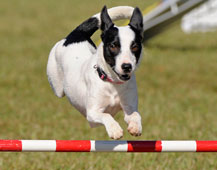 Cameo
MACH C-ATCH Quicksilver's Word Up MXB MJB T2B OF RA FMX RATS

("Cameo" AKA Cammie, Cam, Camo, and Cammie Jo) is an adorable All-American, born 06/25/08. Cameo is super smart and a social butterfly. She loves to do tricks and especially loves to run agility, having earned championships in AKC & CPE. She also competes in Barn Hunt and Rally, and was the top ranked Rally Advanced A dog in 2013 which earned her the June cover of Front & Finish magazine. Best time: 4.4.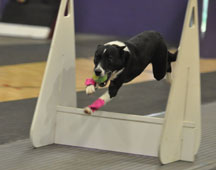 Freak
Freak on a Leash, FGDCh 40K DOB: 1/24/03. Best Time: 4.1 Nicknames: Freak-ules, Freaky-deaky, Slappy McNutt and his Traveling Vaudeville Ducks, Franklin Jahosaphat. Dislikes: fuzzy male border collies. Freak is a border-jack and he embodies some of the best qualities of both breeds. He is a tremendous athlete, excelling in both flyball and disc. He is incredibly friendly, sometimes to a fault--if you let him, he will worm up into your lap and try to stick his tongue down your throat. He loves snuggling under the covers, like a jack, and he also has a tendency to want to take toys into a hole somewhere to tear them up. He is smart as a whip and lots of fun to train. He likes his alone time, and with the exception of Bing, he doesn't much care for the company of other dogs.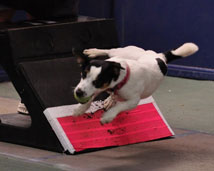 Visa
Quicksilver Charged Up "Visa"
DOB 6/25/08. Titles: FM.
Best time: 3.98. Nicknames: Baby V, Cheese, Squeeza, Pumpkin Louisa
Visa is an adorable border-jack who just might be the perfect dog. She was born at the Lazy Jinx Ranch and though we hadn't planned on keeping a puppy from the Bing x Tex breeding, this little girl wrapped us right around her finger and never left. Visa was the perfect puppy and she has grown up to be a pretty perfect little flyball dog too. She sets the jumps at 9" for the rest of the team, and her best time so far is 3.98. She is a very serious little thing, and loves to train and learn new tricks. Her latest endeavor is learning to dance with her mom.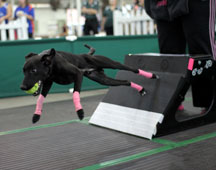 Hotblack
Blue Cedar Hotblack Desiato- AKA Hotblack, Hotty, the Whipster, or just Todd.
Best time: 3.74. Birthday: 04/22/10
Titles: FMCh
Loves: jumping, swimming, snuggling, and Visa.
Dislikes: not jumping, swimming, snuggling, and Visa.
Favorite Beatle: Ringo (don't ask...he doesn't care to discuss it...he just really digs Ringo).