Meet Our Mixes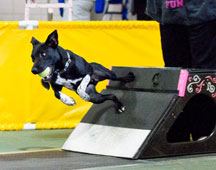 Clash
On Target's Rock the Casbah FMX RATM CGC
DOB: 05/05/09
Clash is a full-steam ahead Border-Staffie who LOVES Flyball. Clash's favorite past times are destroying things, eating and tugging. He has the great ability to spring from a stand still to over your head. WARNING - Don't hold a tug too near your face unless you want to get a close-up of Clash's molars. When not in the lanes, Clash is a love bug who likes to snuggle and give kisses. Clash's second favorite sport, next to Flyball, is Barn Hunt. He holds the Rat Masters title and is working on his Barn Hunt championship. He also loves Dock Diving and recently started competing in Agility. Best Time: 3.96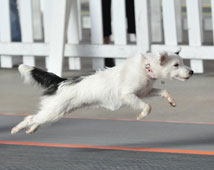 Nano
Nano the borderjack , (the iPawd Nano) born just after the 2008 Nut, is from BadaBing and Tex, and is most noteworthy for her exceptional cuteness and super sweet personality. Her long hair and striking markings caught the eye of the Petsmart marketing people, who put her picture on a new brand of treats. Nano would like to be in the movies! She is a "people dog," and makes friends wherever she goes. She is also an up-and-coming flyball star and looks forward to learning more agility too. Her favorite game is disc, and she wishes her mom were more serious, well, serious at all, about this sport. As of late 2011 she has her FMCh.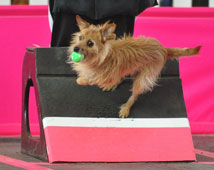 Super
Super....FDCh-G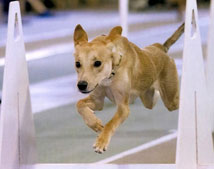 Tesla
DOB 8/13/2009. Titles: FDCH-G. Best time: 4.0. Nicknames: Tesla Bolt, Baby Girl. Likes: Matthew, "Here comes the claw" game. Dislikes: Vet wrap, vegetables

Tesla joined the pack after months of searching for the next flyball dog. For ten bucks, one man's junk was truly another person's treasure. Tesla quickly forgot her multiple months of living behind bars and has been living life to the fullest and loving her flyball career. Once she met Matthew on his return from Disney World, it was love at first sight. She has been a Daddy's girl ever since and anything she gets to do with Matt is a blast. Tesla is a hilarious clown that provides comic relief at any time of the day.