Meet Our Golden Oldies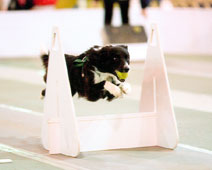 Brett
Brett UDX RAE OA OAJ OAP OJP OFP HSAds HSBs CL-3 ONYX AKA Brettowski. Brett is a black and white BC, born 12/04/00, who still acts like a puppy – we challenge any one to try to get his tug away on the first attempt. Brett has boundless enthusiasm for any task that he is given. He recently earned the Obedience title of Utility Dog Excellent. Brett also has titles in Herding sheep and ducks plus Agility and Rally. He is a recipient of the Versatility Excellent Award from the Border Collie Society of America. His best time is a 4.5 and he mostly runs on Veterans these days.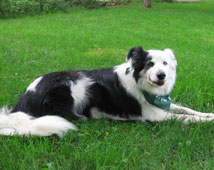 Tam
Whoever said "You Can't Teach Old Dog a New Trick" never met Tam. I adopted Tam from Glen Highland Farm in July 2007 at the age of 10 ½. Having two younger border collies at home that actively compete and train in flyball and agility, I knew I would not be able to give a young dog the attention or training they needed. Adopting an older dog seemed the way to go. It was clear from the first day at home that Tam was not ready to spend his golden years lounging on the sofa. Tam is crazy about his Frisbee and, in spite of our daily exercise regimen, something was missing. As with most border collies, Tam needed a job. I train and teach at Y2K9s in Wyndmoor, PA so I started taking Tam to flyball class with me. He was very interested and excited in class so I started letting him do some run backs. It wasn't long before I introduced him to the box. He was having a great time and there even seemed to be more order in our pack, so we stuck with it. Tam was not an easy dog to train and can be reactive, but this became a personal challenge for me. With the patience, support and indulgence of my team, Fur Fun, Tam received his Flyball Dog (FD) title in June of 2009 at the age of 12 ½. More importantly, it is now clear that Tam's "job" in life is to be an ambassador for adopting senior dogs. I realize that not all older dogs have his energy but they have so much to offer and are so often overlooked. Tam has been my teacher, and I continue to learn from him. And, hopefully, there are a few more titles to earn – he clearly is not done yet. Tam was a NAFA® Cover Dog in January 2010.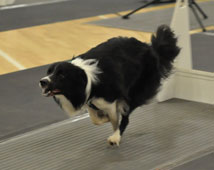 Tony
Tony
Bon-Clyde's Dreams of a Tony FMX CGC
AKA Tony Baloney, Baloney Head & Pretty Boy
Best time: 4.14

Tony is a young BC, born 09/18/07, who just recently started running full-time with Fur Fun. He LOVES flyball and definitely lets everyone know how much he loves it. Tony also likes herding sheep and doing agility but counts flyball as his fav sport. Other likes are tugging, playing in the sprinkler and snuggling.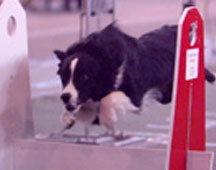 Sky
Quicksilver No Passing Zone FGDCh. Fastest time 4.0.  Sky is Rafe's first bc, and is also a Hustle / Winger son.  He does everything - disc, agility herding.  An all around kind of dog, ready to go when you say the word!
He still at 9 years old, runs 4.1-4.2 and gives it his all!