Meet Our Golden Oldies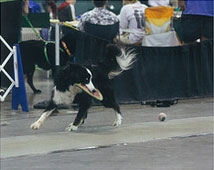 Agassi
Agassi: Birthday guess 8/24/2000, ASPCA rescue 2/24/2004. Fastest time 4.2. Nicknames: Senor, Ags, old man. Obsessive over balls and frisbees. Started learning flyball at 6 and took a year and a half to train. Debuted as a veteran. Part of the 1st place vets team at Can Am 2009. Although he will never admit it, he is very protective of his little adopted sister Jones. Owned and operated by Ben Hill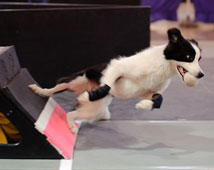 BadaBing
Quicksilver Eye Candy "BadaBing" Titles: FGDCh.
DOB: 2/2/03. Best Time: 3.8 Nicknames: BadaStink, Stink-girl, the Clorox dog, BadaBrat. Most useful talent: retrieving the remote. Hates: people shaking out laundry, not getting her way Bing is adored by her owners, the Jenkins, and consequently, she is spoiled rotten. She is a constant source of humor and entertains everyone at every chance she gets. She is easily recognized by her piercing bark while waiting to race (something we are working on with limited success). She has matured into a great flyball dog and is also now competing in agility. She was Julie's experiment in training running contacts and the results are quite thrilling! Bing is a fantastic disc dog with amazing natural jumping ability. If you have a Frisbee, be careful where you hold it, as Bing is very likely to interpret any movement as an invitation to vault off your body! Bing passed on her wonderful temperment, structure, and working ability to her first litter, sired by Foxport Tex of Blue Cedar kennels. Visa, Nano and Cameo stayed on Fur Fun, Hijack is in Texas (Lonestar Ruffnecks), and Jive lives in PA (Hard Drive).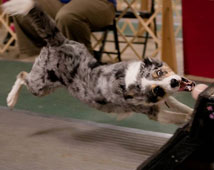 Shiner
Quicksilver First Light, OA, OAJ, FGDCH60K
Shiner (Shineroo, Shinosaur, Girlie-girl) is from Sprint's last litter, born in August, 2002. She learned flyball incredibly easily and has run consistently sub-4-second times throughout her career. Her best time was a 3.75. She is a noteworthy agility dog, and an effortless disc dog as well. She has also produced some amazing flyball and agility performers. She specializes in reading Deb's mind, and relies on that gift to succeed at all in agility, as Deb isn't much help as a handler. Her favorite activity is organizing the Norman household and keeping visiting dogs in line.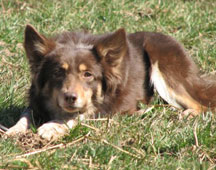 Pixel
Orion Dots Per Inch NAJ SG SJ FGDCh - fastest time 4.0. AKA the Red DEVIL!  Pixel ran her first tourney 3 weeks after starting flyball class, lets just say she was MEANT to play this game!  She is a BC height dog, measuring in under 16"  Everyone loves the pixie, but don't let that sweet look fool you! Pixel also competes in agility.