Meet Our Humanoids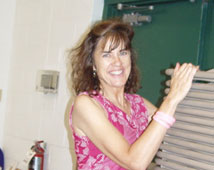 Penny
Penny is a lifelong dog lover who taught tricks to her childhood pets and claimed first prize at the annual county fair dog show. In 1988, she and her husband, Dale McElrath began breeding, training and showing dogs. Penny has put numerous titles on several breeds in a number of sports, including agility, conformation, obedience and rally. Her retrievers have earned hunt test titles, and her BCs have achieved herding titles. Penny discovered Flyball in 2004 and now it is her favorite sport! Penny is constantly training for more titles. While her teammates are hanging out between races, Penny is the one dragging obedience jumps out of her van and doing heeling patterns around the set-up. Penny works for the AKC headquarters in NC. After hours, she teaches agility and obedience classes at two training schools. In her spare time, she sleeps!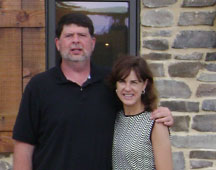 Dale
Dale is Penny Leigh's other half and has been involved in training and showing dogs in various sports since 1988. His specialty is the conformation ring. Dale has bred and owner-handled Flat-Coated Retrievers to numerous group placements and top rankings. Dale has been known to leave a dog show and head straight for a flyball tournament – and boxload – in suit and tie! He is Fur Fun's resident dog structure expert. If you want to know anything about your dog's shoulder lay-back, bend of stifle or movement, just see Dale. He is happy to give free consultations. Dale also has put Obedience and Agility titles on Flatties – and recently got involved in competing in herding trials with the couple's BCs. In the past year, he added five sheep to the household as well as his own BC puppy from herding lines - Venus. In his day job, Dale works in television news. Dale is also a semi-professional ketchup eater.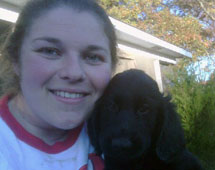 Erin
Erin has been involved with working with animals all her life and has been employed as a veterinary technician, kennel technician, dog trainer and groomer! Currently, Erin is an animal control officer and, as a result, is the resident zookeeper for Fur Fun. She often totes along injured opposums, orphaned geese, and other wildlife she picks up on the way to tournaments. Erin runs a Border Collie and a Pug on Fur Fun South and also shares life with a Flat-coated Retriever. In addition to flyball, Erin competes in Agility and Conformation. Favorite Condiment: Ketchup!