2017 Motels!!!
Below is a list of hotels as of this morning Friday March 17th that Have availability and allow dogs.
This year the Furniture Market is the same weekend as the Sweet Tea, so unfortunately we cannot reserve or block any rooms. We highly advise anyone to make your reservations as soon as possible. Furniture Market is a large draw for the area and the rooms will fill sooner rather than later. Apologies for not handling this sooner.
Thank you Mitchell Arnold (one of the newest Fur Funnies) for calling all area hotels and cobbling this list together)
Red Roof
615 Regional Road, Greensboro 27409
2 Dog per room
99.99/night
(336) 271-2636
17 Miles
5.00/night each additional dog
Red Roof
2444 MAPLE BURLINGTON, NC 27215
2 Dogs per room
53.99/ Night
336-229-5203
24 miles
5.00/night each additional
Motel 6
2838 S Elm Eugene St Greensboro, NC 27406
2 Dogs per room
64.99/night
(336) 275-0800
7 miles
Motel 6
605 S Regional Rd Greensboro, NC 27409
2 Dogs per room
71.32/night
(336) 668-2085
17 miles
Motel 6
2155 Hanford Rd Burlington, NC 27215
2 Dogs per room
33.99/night
(336) 226-1325
24 Miles
Comfort Inn
1103 Lanada Road, Greensboro, NC
2 Dogs 25 per night per dog
(336) 297-1055
13 Miles
290/night
SLEEP INN AIRPORT
7 Sharps Airpark Court, Greensboro
2 Dogs 20 per night per dog
(336) 931-1272
17 Miles
187/night
RODEWAY INN & SUITES
3117 Cedar Park Road, Greensboro
2 dogs 25 per STAY per dog
(336) 697-4000
6 Miles
103/night
Days Inn
2205 Barnes St, Reidsville, NC
15per pet per day
64/Night
(336) 342-2800
17 Miles
Super 8
204 Seneca Road, Greensboro
20 per pet per night
73.09/night
(336) 273-1983
7 Miles
Days Inn
501 South Regional Road, Greensboro,
10 Per pet per night
101.99/night
(336) 790-0818
17 Miles
Econo Lodge
2133 W. Hanford Rd., Burlington,
20 per night per pet, max 3
(336) 227-1270
24 Miles
55/Night
Please contact Rose or Mitch with questions.
RVs
Please contact Emily for RV inquiries/reservations
No hookups, but FREE dry RV camping allowed.
There are nice locker rooms and showers available during open building hours only.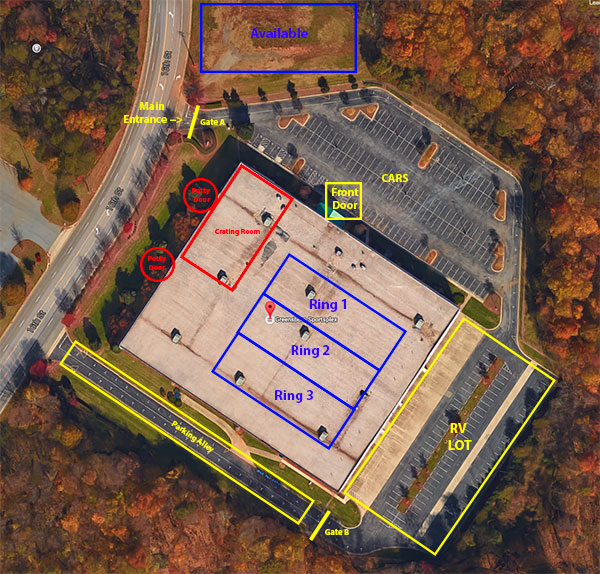 Click on image for full sized version
The front door and potty doors are the only doors available for foot traffic.
Gates A and B will be closed and locked each night, when the building closes. Foot traffic can still pass by/through both gates.
Area marked "Available" CAN be used to park RVs (especially those that want to come and go after gates are closed and locked).
Overnight campers camping in "RV LOT" CAN use area marked "Parking Alley" to park additional vehicle, so they can walk from "RV LOT" to "Parking Alley" after gates are closed to come and go after hours.