Meet Our Mixes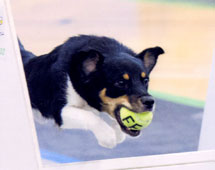 Elphie
Flying Pucks Wicked Witch of the West - AKA Elphaba, or just Elphie
Birthday: 04/03/11
Fastest time: 3.82 over her own height of 8". Sometimes a good witch, sometimes a bad witch. In the flyball lanes, definitely a good witch.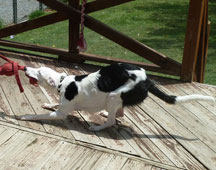 Homestar Runner
DOB: 05/17/2011
Moose x Tantrum
Best time 3.53
Homestar is from the only breeding of Moose and Tantrum and he is a very special boy. After a puppy-hood injury, Homestar was given a very grim prognosis, but after lots of hard work he is sound and playing flyball! He is a very sweet boy, extremely kind to all people and dogs, and loves almost nothing more than cuddling. You can read Homestar's injury/rehab story here. After his injury, we hoped he would be able to walk and run and lead a happy life as an active pet. When his rehab went better than expected, we decided to (carefully) teach him to play flyball, just hoping he'd be able to learn it and maybe run here and there for fun. He showed us that he had more to give and continued to steadily improve as we gradually stopped worrying about him and ran him more. Homestar has surpassed all of our expectations and continues to amaze us with his heart and determination.  He was the first dog on Fur Fun to run a 3.5 second time, in August 2015. He is a phenomenal athlete and we are so proud of him. He truly is the comeback kid and living proof that Can't lives on Won't Street.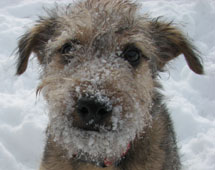 Koa
Blue Cedar Makin' Waves "Koa" DOB 07/29/10 Koa is a wonderful little mix from Blue Cedar Kennel in Nevada. And even though you would never guess, he is a half brother to Hotblack! And No..he is not named after Kampgrounds Of America :) His name is Hawaiian and means "bold, strong, powerful." Koa is also a type of beautiful hardwood you find in Hawaii..and his color looks just like it. He has started training, and is a savage tugger! He is wicked smart and learns really fast. Kelli is totally smitten by him :) He is destined to be the next Reg 1 height dog for the North team :) You can often find him curled up with Sprinty.
Toast
Bottoms Up!
DOB: 06/2013
Best time 4.20
Nicknames: Roaster, Hippo Ballerina. Toast was rescued from Wake county animal shelter by a region 9 flyballer, Angela Meeler. From her first appearance on Facebook, advertising her availability for adoption, Julie was completely smitten with her. She permanently joined the Jenkins pack in August 2014. She learned the flyball pattern extremely quickly, but also spent a solid year building a relationship and foundation skills she missed out on as a puppy. She loves all dogs and people and is the best snuggler in the house. Toast debuted in 2015 and is maturing into a solid 9" height dog for the team. Likes: tennies, sleeping under the covers Dislikes: riding in the car